Portillo's client story
It all started with a hotdog stand in 1963.
It was a fast-casual experience based on the culture of its founder Dick Portillo, from North Avenue in Villa Park, Illinois. A rich history and over 50 shops later, Portillo's is proud to call their brand a "forever legacy" with roots forever deep in the midwest.


Jeanelle Calogero,
Brand Design Manager
Company Stats
59 locations in the U.S.
16 openings over the past 3 years
100 - 120 employees per restaurant
100 employees at the corporate level
Download the Client Story

The challenge
When Jeanelle Calogero came to Portillo's in 2016 to lead design and content creation, she quickly noticed just how disjointed the brand was across the company. As a 50-year-old company, photography, brand voice, and marketing materials had all been used without much oversight. You can imagine the combinations of outdated imagery, voided collateral, and general brand guidelines that were haphazardly used across HQ, and in turn, throughout all restaurant locations.
Design and content creation needed to be streamlined in order to effectively maintain the growth of the business. Being the new decision-maker on the brand voice and brand identity, Jeanelle took all creative and content in-house and knew a creative process had to be carefully considered and implemented. The legacy brand creative deserved to be preserved strategically, while also serving new creative initiatives for younger followers and new regional locations.

The solution
As the Brand Design Manager, Jeanelle surrounds herself with a small but mighty team. They work as the internal creative agency for Portillo's. All creative requests come through them, including marketing needs, recruiting and hiring functions, as well as training materials for each location.
We aren't planning to add any team members because we will continue to streamline using Brandfolder instead.
Jeanelle Calogero transformed the way marketing was prioritized at Portillo's corporate headquarters. With the massive expansion of locations on the horizon, Jeanelle took a page out of her own playbook from her previous role at Potbelly's Sandwiches (which she helped expand to over 400 store locations). Knowing the features and functionality of Brandfolder she had used at Potbelly's, she knew it was the only tool to support this fast growth model while also preserving a massive archive of brand elements for Portillo's.
So, how do we take this legacy brand into the future?
Brandfolder allows Portillo's to train employees seamlessly, host more field events, and open new locations faster, all leading to a significant return on investment.
The employee training team
The Training Department at Portillo's was running rogue due to a lack of resources on Jeanelle's team. Training creates an abundance of videos, handbooks, guidelines, posters, etc. Jeanelle wanted more eyes on the brand visuals and the voice being presented to trainees. Instead of adding a person to her team to support the training requests, they created a specific Training Collection where they could access all approved assets to use in their materials.
With Brandfolder, I am no longer a bottleneck for the training team. I tell them, if it's in Brandfolder, it's already approved. It takes me out of the creative process.
We are expanding unit growth throughout the next few years at an average of 5-7 locations a year. Brandfolder will allow that to be done more efficiently and to move much faster.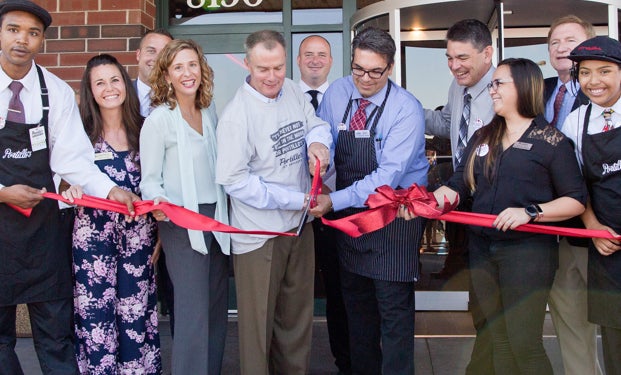 The field marketing team
Portillo's Field Marketing team is a busy one. They host major events and participate in fundraising projects. They constantly need access to vector files and also specific lifestyle and store photography. Now they have a Marketing Collection to access whatever they need. They are moving faster and hosting more events in 2019.
We are able to provide MORE support with LESS effort.
Human resources
HR writes and distributes a newsletter each week to all of Portillo's employees - that's about 10,000 eyes on a piece of creative that wasn't on brand until recently. Jeanelle knew she needed to help with the process. Instead of being involved each week, Brandfolder Templating allows her to create one newsletter template in Adobe InDesign, upload it into Brandfolder, and then the HR team fills in the content each week as needed. Jeanelle simply makes it editable and ready to use. Talk about brand equity from the inside out!
Most of the locations require a double lane drive-thru, with police traffic control mediating more often than not. The Portillo's legacy brand is the strongest foundation connecting these 60 restaurants together. With Brandfolder, the Portillo's brand continues to expand their footprint without missing a beat.
Interested in learning how Brandfolder can help you manage, distribute and analyze your brand assets?